GeForce GTX 580 vs Quadro 5000
June 13th, 2012
Testing by Kim Lee and Joe Gunn
Review written by Kim Lee and Lais Williams
The question of which graphics card hardware to buy for your computer is as old as computer graphics itself. The struggle to make an educated and cost-effective decision is difficult, and is made more confusing by the near-constant evolution of technology. While there have been many benchmarks written by industry magazines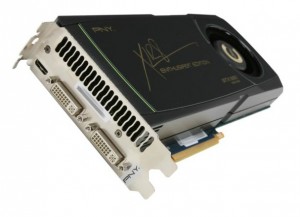 and websites using standardized benchmarking test software, these publications don't always give the reader an understandable grasp of what those results will mean to them in real world production. Also acknowledging that there are some reviews that strive to go past the standardized tests by using real-world files, we felt the need to satisfy our own curiosity by running some tests ourselves. The original impetus for running these tests came from the recent spurt of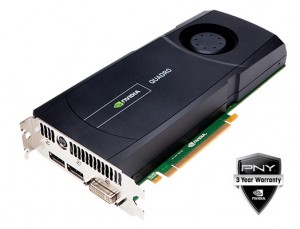 development of standalone software and 3ds Max plug-ins that are taking advantage of CUDA cores found in current NVIDIA-based graphics cards. According to current specifications, it would appear that the GeForce line of NVIDIA-based cards have significantly more CUDA cores than their higher-end (and much more expensive) workstation card brethren, the Quadros. This can make purchasing decisions confusing. We explore this question: is spending the extra cash on a Quadro worth it, or can you get "close enough" performance from a GeForce?
A Very Brief Primer on CUDA Cores
CUDA stands for Compute Unified Device Architecture. In the words of its developer NVIDIA, it is a "parallel computing platform and programming model that enables dramatic increases in computing performance by harnessing the power of the graphics processing unit (GPU)." What that means to 3d artists is that developers can write applications and plug-ins that can directly harness the unique processing power of a CUDA-enabled graphics processing unit found in most current NVIDIA based graphics cards. When most of us hear CUDA it is usually in the context of a particular NVIDIA based graphics card that has a given number of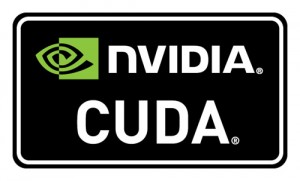 CUDA cores which of course refers to the hardware side of the CUDA solution. Bear in mind that software must be specifically written to take advantage of these CUDA cores, so while software such as glu3d GPU Edition may harness these cores for accelerated performance, other plug-ins or core functionality of 3ds Max may not, even though they benefit from the increased viewport speed gained from the combination of display drivers and modern NVIDIA-based hardware. Video display performance inherently harnesses these GPU cores. Most of what you will hear regarding CUDA enabled plug-ins and software refers to harnessing these same hardware cores for operations and functionality not related to displaying graphics on your monitor. This could be anything from simulation software, depth-of-field blur, rendering, or anything other functionality that can be multi-threaded or parallel processed.
To learn more about the nuts and bolts of CUDA, we refer you to the extensive CUDA article on Wikipedia or check the NVIDIA CUDA FAQ.
This article will focus on comparing the performance of the GeForce GTX-580 with its 1.5GB of RAM and the Quadro 5000 with 2.5GB of RAM in 3ds Max 2012. During the course of testing we realized that it would also be useful to test the effect various viewport drivers would have on performance, so some of the tests were run twice: once with Direct-X and again with the new Nitrous driver.
The first group of tests focused on CUDA core performance using glu3D GPU edition from 3D Aliens, a liquid simulation plug-in for 3ds Max that takes advantage of CUDA cores. The second group of tests focused on MassFX, the new physics-based dynamic system in 3ds Max. The third group of tests focused on more conventional uses of 3ds Max with reasonably high poly counts (in the 4- to 5-million poly range) to test viewport playback speed and interactivity. In this test we chose an architectural-themed file with no other animation in it but a camera move. In upcoming addenda to this article, we plan to add more tests to this review, potentially looking at scenes with character deformations, deforming geometry, and things like vRay RT, and hopefully running the same tests on newer cards as they become available.