Reviewed by Jacques Tégé, Jr.
Decades ago, high end visual effects were the holy grail of the motion picture industry – wholly sought after, rarely achieved, and only dreamed of for broadcast television and industrial productions. In the infancy of the digital effects age, computer systems were expansive, components were prohibitively costly, and trained talent was a rare breed. Only major facilities and well-funded institutions, with few exceptions, had access to the type of hardware that could facilitate the growing demands of contemporary digital arts and cinematic content.
These days, hardware and software are far more accessible. As per the law of scales, generally, the more you need, the higher the cost. However, that trend is bucked when it comes to the next generation of professional workstations released by Seneca Data Distributors, Inc.
Their new Nexlink line of workstations offer 4 tiers of industry-capable performance, from an entry level solution in their Nexlink VFX 9000 series, to one of the most powerful workstation configurations available in their VFX 9300 full tower. Recently, Seneca was graciously willing to let us put their 9200 model through a few production paces of our own, and here is what we found.
On first glance, the VFX 9200 has an understated monolithic presence, with a sleek, dark faux brushed metal finish that makes it appear as a solid piece of graphite. Nice, as a posh addition to a fashionable boutique, this is not a gaudy, overstated box that warrants being hidden away. The brushed aluminum colored plastic keyboard, however, could take a lesson from the case as far as its desktop appearance is concerned.
Aside from the look of the box, there are plenty of I/O ports available, with four conveniently located USB ports (2x 3.0) in the front, and another 12 in the rear, along with the standard dual ethernet, and audio in/outs. Inside the box they've got a 256 GB SSD, 4x 1TB Raid at 7200 RPM and 64 MB cache, 16 GB DDR4 2133 MHz RAM (expandable up to 64GB), Seasoic 860W 80+ Platinum Ultra quiet power supply, an Intel Xeon 1620 V3 3.5GHz and 10M cache cooled by a Corsair H80 liquid cooling system. To top it off, it's powered by a Quadro K4200 GPU. Though the front cover feels somewhat insubstantial, the guts of the machine are clean and well organized, with all of the components very accessible, which is important for upgrades and maintenance, or for those who simply like to gawk voyeuristically at workstation innards.
Boot up is a pleasure. Once past the bios screens, the OS is available quickly. Total boot time was about 35-40 seconds, warm or cold. Once booted, this system's sound footprint was minimal. It was so quiet we had to look to see if the fans were operational, and they were.
Powered up and ready to go, it became time to take the VFX 9200 for a brief "test drive." The machine was minimally loaded with Audodesk's 3d Studio Max 2015 so we could test its performance under practical production scenarios. Our tests were less about benchmarking hardware and more about formulating an opinion about whether this unit represents a viable production option in the professional VFX workspace.
To test the machine's production chops, we loaded in the previously used 4.2 million poly city block scene, courtesy of Turbosquid. NYC3d used this file for previous tests, so we simply used those prior settings to navigate and edit the environment, testing real-time playback and viewport responsiveness.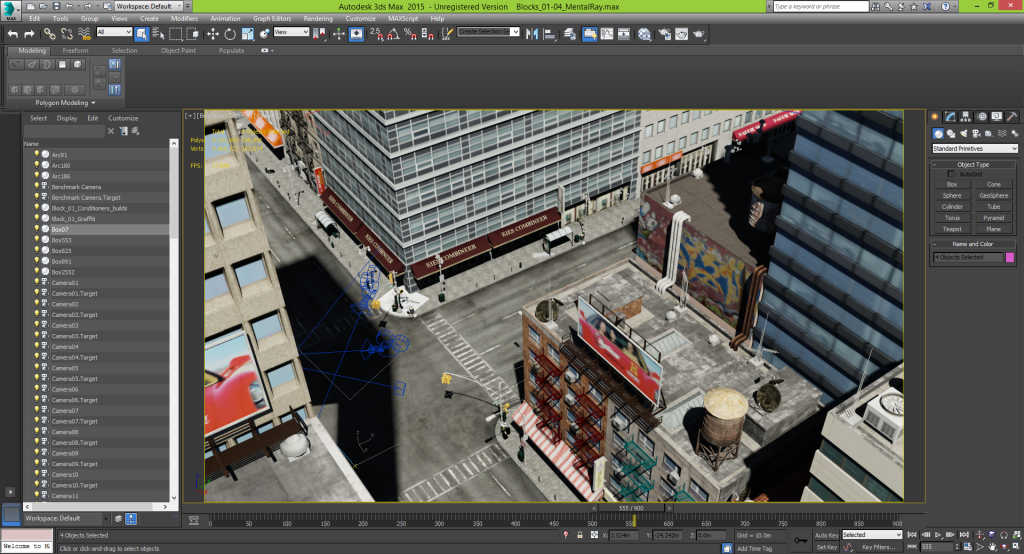 In realistic mode, fully textured, we enjoyed frame rates just above 60 fps. In some of the more challenging areas we went as low as 43fps, which posed no issues with manipulating the file, and was still nice to experience with such a dense data set. Viewport shadows and ambient occlusion effects also rendered fast, with frame rates that were still very viable.
We also ran a quick and dirty MassFX/mCloth test consisting of the gratuitous teapot, 256 spheres and a 40k poly drop cloth. While a fairly simple test, the simulation calculated rapidly enough, leaving us with the resulting impression that this machine would perform well under the pressure of a fast paced VFX production environment.
At the end of our time with the VFX 9200, we had an overall sense of the workstation's pros and cons in a very general sense, and certainly had enough information to form an informed opinion regarding whether this machine would be an asset in production. In the list of pros are the clean look of its understated monolithic chassis, its silent operation, and GPU performance. The few cons we noticed were the loose construction of the front door, the fair performance of the Xeon 1620 (not really a con, but it didn't overwhelm us), and the somewhat anemic RAM out-of-the-box, which is easy enough to expand to a maximum of 64GB.
Overall, this is a good buy, especially for those who want workstation grade performance and customer support, without the hassle of researching, configuring and building a system themselves. Click on the following link to find out more about the Nexlink VFX
System Specs.
VFX 9200.
256 SSD- Samsung EVO 850 series
4 x 1TB Raid 0 (1TB) 64 MB Cache 7200 RPM
16GB DDR4 2133 MHz Ram
Seasonic 860W 80+ Platinum Ultra quiet
Corsair H80 Liquid Cooling
Intel Xeon 1620 V3 3.5GHz 10M Cache
Silent Fan systems
Quadro K4200 GPU