Located in a modern production facility in Soho, FuseFX, New York, provides visual effects services for television, features, commercials and other media. Capabilities include 2D and 3D visual effects, 3D animation, compositing, finishing, matte painting, cosmetic enhancement and pre‐visualization. Recent projects include the television series The Blacklist and Powers, both for Sony Pictures Television.
FuseFX, New York, was launched in 2014 as a satellite of FuseFX, Burbank, whose award‐winning team has produced visual effects for scores of popular television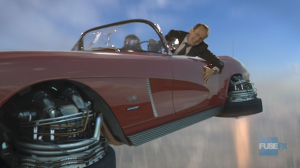 shows and feature films. The company has been successful by focusing on quality and efficiency. It operates a proprietary production pipeline and shot management system that enables it to deliver feature quality results on a television schedule. The New York facility complements this unique pipeline with a talented and highly experienced team led by Senior Visual Effects Supervisor and Head of Production Greg Anderson, whose credits include Sky Captain and the World of Tomorrow, Spider‐Man 2 and The Day After Tomorrow. He is assisted by Ariel Altman and Dave Reynolds as Composite Supervisors, Joe Gunn as CG Supervisor and Lindsay Seguin as Producer.


As FuseFX New York prepares for a busy second half of 2015 we look forward to more great VFX work being created in New York.  You can contact them via nyinfo@fusefx.com